Crickets poop a lot. To sound more sophisticated, crickets' poop are also referred as cricket droppings, feces or frass. Frass is a more formal term, which refers to a solid excretion of an insect.
I have medium-size (30 square meters) commercial crickets farm, so I must admit that I have some experience with crickets' droppings.
Crickets' grown cycle until maturity is ~6 weeks under perfect conditions. After that containers where crickets lived are full of of stuff. By stuff I mean cricket exoskeleton, dead crickets, food remaining and crickets' droppings.
In my commercial cricket container, crickets' exoskeleton, food remains, dead crickets and droppings make around half the weight comparing to the crickets' weight. Majority of those "leftovers" after crickets are harvested consist of crickets droppings. It's because crickets' death rate is very low (we speak about ~0.1% death rate) and exoskeletons are almost light as air. Also, I feed my crickets dry crickets' feed, meaning that food leftovers are only parings which are very light. Hence, those leftovers mainly consist of cricket droppings.
How Does Cricket Poop Look Like?
Cricket droppings are small black round-shaped excrement. They dry very fast because of the small size. Cricket droppings look like poppy grain, but smaller. Here's a video how cricket droppings look like.
People usually don't know the difference between cricket poop and cricket eggs. Check my other article to understand how to identify cricket eggs.
Here you can see my video how much of crickets' droppings piled up after I compiled it from ~15 cricket containers 17 gallons each (65 liters). Those brighter color items are leftovers (parings) from special cricket dry feed. Black dots are cricket droppings. Note, that in this video you see sifted cricket droppings. It means that exoskeletons and died crickets were separated. So, the substance here is ~90% of cricket droppings and ~10% of cricket feed parings.
In captivity, crickets are usually raised in plastic boxes, so after the full cycle (~6 weeks) you will find the bottom of the container full of small black droppings.
If you found insect dropping at home and want to identify if it's from a cricket, a good identifier is that cricket droppings are usually spread around and are not piled up in a tall heap. If you see tall heap of droppings it could mean that you deal with termites.
Cricket Poop Or Eggs?
If you haven't dealt with crickets before, you may be wondering how to distinguish cricket poop from cricket egg.
Both cricket poop and egg are very small, so for a beginner it can be hard to say which is which. I myself at the beginning of running cricket farm have struggled to identify cricket eggs from cricket droppings.
These are the main differences between cricket poop and cricket egg.
Cricket Poop
Cricket droppings are rounded shape, black in color, dries fast and looks like a smaller version of poppy grain. Here's a photo of cricket droppings (black grains).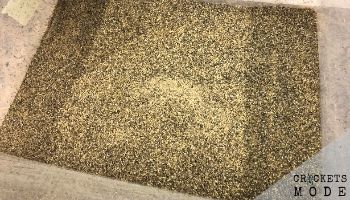 Where Can I Find Cricket Droppings?
If it happens that cricket came to your house without invitation, you may notice a cricket in warm places where there's not much movement happening, because crickets love warmth and are afraid of almost anything what moves. Hence, cricket droppings should be found easily in same places where they hang out.
In nature, you could find cricket's droppings anywhere where they hang around as well (trees, forests, meadows, grasslands and similar), but it would be almost impossible to see it even with magnifying glass because it will blend in with the surroundings, because it's tiny.
Cricket Egg
Cricket egg looks like a grain of rice, always in bright white color. They are so bright that when looked closely it seems that you can see through it. On average the size of a cricket egg is like the grain of rice.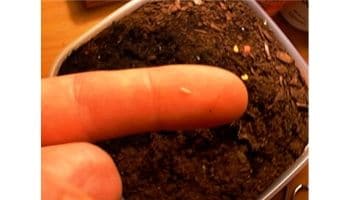 When breeding crickets, I have noticed that cricket's eggs look smaller at the beginning (slightly smaller than a grain of rice). Under perfect climate conditions, a house cricket's egg (Acheta Domesticus) hatches in 11 days. On around day 9-10 I always notice that eggs start to look slightly bigger comparing to when it was laid (around the size of a standard rice grain).
Where Can I Find Cricket Eggs?
Female crickets usually lay eggs in moist soil, because eggs need to stay humid in order to hatch.
In nature, it's normal for female crickets to lay eggs in soil around ponds, rivers and similar areas where it's more humid. Female crickets lay eggs by using their ovipositor (a tail at the end of the body). They stick it inside the ground and lay the eggs into the ground.
So, usually you will not notice cricket eggs in dry places, because cricket just won't lay the eggs in a dry environment.
Female crickets can lay eggs only when they are fully mature. It happens within ~6 weeks. One female cricket can lay 5-10 eggs during one sitting. Usually a female can lay around 100 eggs per lifetime.
In my cricket farm I have noticed that after female crickets mature, their abdomen significantly increases in size. So, by this time female crickets should be provided with moist soil, so they could start laying eggs.
In a cricket farm, if female cricket is mature, but doesn't have soil where to put the eggs, she will lay if wherever she will find a moist spot. The target usually is water drinker. Why, you may ask? Well, because it's water, it is humid.
The problem can araise from that if you will not clean your crickets' containers often, baby crickets may start to hatch from water drinkers. So you should be careful and keep your cricket containers clean.
Cleaning Cricket Droppings
Cricket droppings are hardly noticeable. Though, if you found cricket droppings in your attic or basement, you can simply clean it with a broom. Cricket droppings are not known to be very contagious. Though, you should not touch cricket droppings with bare hands – use gloves when cleaning the place.
Cricket Poop: Organic Fertilizer
Cricket droppings are also called cricket frass. It is very beneficial for the plants, as they contain big amounts of nitrogen, iron, phosphorus, potassium, calcium, magnesium, iron and other relevant nutrients which are crucial for flora to thrive.
If you raise crickets for fun or for your bearded dragon or other lizard, you probably feed your crickets with veggies, fruit, cereal, bread and similar. Hence, such food is organic, which means that your crickets' droppings (aka frass) are also organic.
Which plants don't like organic fertilizer? That's right – you can spoil your plants in the back yard/garden and your flora will love it.
Another great advantage of cricket frass is that it has dry consistency, which prevents it from bad smell. It means that you could use cricket frass and spoil not only your back-yard plants, but also plants inside your home.
So, I hope you're at least more or less convinced that cricket frass has great nutrient values. But wait, there's more!
Cricket frass serves plants as an extra prevention mechanism to fend off herbivores and various microorganisms from munching your plants.
To be more technical, such action is called secondary metabolite. Cricket frass helps the plants to react earlier and generate secondary metabolite before insects even start to much the plant. Cricket droppings support that function because cricket poop contains chitin and chitosan. They support plants by generating defense chemicals to prevent munching from various insects.
Long story short, cricket frass works like a charm for almost any plant, either it belongs to inside or outside flora. So, why not give it a try?
Where To Buy Cricket Poo (Frass)
If you already raise few crickets for fun or feed them to your bearded dragon or other lizard, you could easily collect the droppings from your crickets' container and pour it in soil for your plants.
However, the volumes will be probably low, because not many people keep 1000 crickets or more just for fun. Also, to raise big cricket volumes and have a cricket farm only to get cricket frass also doesn't sound like a good idea.
Though, there's an easy solution for that. These days you can buy anything online. You can buy cricket frass from few different companies which raise crickets and produce cricket frass as a by-product. If you're interested to try it for your plants, here's few options for you to select from Amazon:
Our recommendation to apply cricket frass for different flora:
| | | | |
| --- | --- | --- | --- |
|   | How Much Cricket Frass? | Area size | Frequency |
| Lawn | 2 lbs (1 kg) | 50 ft2 (~5m2) | 1-2 times per half year |
| Potting soil | 4 oz (125ml) | 2 lbs (1kg) soil | Once. Top dress 1 per month |
| Raised-bet gardening | 1 lb (0.5 kg) | 20 ft2 (~2m2) | Once per season |
By the way, I don't have a garden, so cricket frass from my cricket farm I simply donate to my neighbors and relatives. If you're living somewhere in Europe, and you look for a bigger volume cricket frass supplier, just send me an email and we could arrange a package dispatch for you:)