Are you planning to get live crickets so you could feed this delicacy to you reptile pet? If so, you came to the right place.
In my crickets' farm each 2 months I breed crickets from eggs until maturity. As I have some experience already about crickets breeding, I will share my good practices about baby crickets and how to take care of them.
Baby crickets are also called pinhead crickets. They hatch after ~11 days of incubation. After hatching crickets are ~1/16 inch (~2 mm) in size. From first hours of hatching pinhead crickets will need to survive:
Baby crickets need 80-90°F (27-32°C) of temperature to thrive. In perfect conditions crickets mature within ~6 weeks. Mature crickets are ~1 inch (~2.5cm) in size. Baby crickets eat fruits, vegetables & meat. Live pinhead crickets is perfect food for bearded dragons and geckos.
Do Baby Crickets Chirp?
No, pinhead crickets don't chirp. Only mature male crickets can chirp. For example, a House Cricket matures in ~6 weeks and only then you can hear its chirping. Reasons why male crickets are chirping:
attract female crickets for mating
show dominance after mating
to defend its territory from predators (e.g. other male crickets)
Baby crickets don't chirp as they don't have wings developed yet. Wings are vital for crickets' chirping. They rub wings against each other to create the sound.
Check out my other article where I cover in detail about why do crickets chirp with audio samples!
Interesting FACT: crickets are capable to chirp only when temperature is warm enough. Cooler temperature decreases crickets' metabolism (source). It makes crickets to save energy, so they stop chirping. That's why you don't hear crickets chirping outside during cold weather.
What Do Baby Crickets Eat?
Baby crickets, same as mature crickets, eat fruits, grass, meat and basically anything they can find organic. If you grow baby crickets at home in a terrarium, you could give basically any leftovers you have from dinner.
You probably don't want to feed your bearded dragon or other per lizard with nasty crickets which could transmit bacteria.
So, if you feed baby crickets, for example, fruits, you should change slices at least once per day. If you'd keep it longer, then bacteria, fruit flies and mold could start to emerge. And even bad smell!
In my cricket farm I breed tens of thousands of crickets. So, if I would feed them with fruits and leftovers, it would be crazily unhygienic.
The solution to keep bacteria and bad smell away is to feed crickets with dry cricket food which you can get on Amazon. The feed has all needed nutrients for crickets to get all vitamins they need to be healthy. Healthy crickets = your happy lizard pet!
An issue with dry cricket food is that it doesn't have water in it as fruits have. If you feed crickets with fruit you don't need to supply water separately. Though, if you feed crickets with dry food, then you need to supply water separately.
So, How To Give Water To Baby Crickets?
Crickets don't know how to swim, especially baby crickets. Also, they aren't smart enough not to put feet in water. So, they walk and jump around anywhere they can reach.
So, when you supply water to baby crickets – be careful and don't keep open water tanks. Pinhead crickets will jump and drown. If there's a small crack from the open water – baby crickets will find it!
A simple solution how to give water to your baby crickets is a special gel which you can buy on Amazon. It is mostly water and nutrients. Baby crickets will eat it when thirsty.
I've tried to give give such gel to my baby crickets and they drank from it without a problem. Here's how it looks: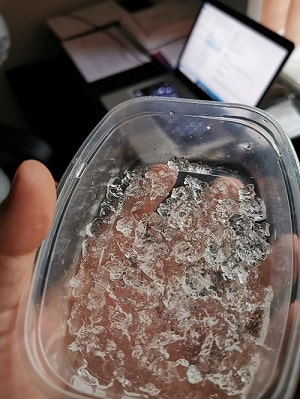 Another solution is just to add wet sponge on the bottom of the container where baby crickets live. Baby crickets will drink from it just fine.
Though, be careful and don't add shaggy sponges for your pinhead crickets to drink from. It has to be smooth material. Otherwise baby crickets will get stuck in it. One time I noticed that freshy hatched crickets were trying to get on the sponge to drink water, but their tiny antennas were getting stuck on the corner of it. And none of the crickets crawled on the wet sponge.

After I changed to another type of the sponge then pinhead crickets started drinking without any issues. You can get such from Amazon here.
How Small Are Baby Crickets?
Recently hatched pinhead crickets are the size of a 1/18 inch (~2mm).
Here's how recently hatched pinhead crickets look:
In my farm I breed crickets in colonies of around 700-1000 crickets inside ~24 gallons (90 l) containers. Such container you can get on Amazon.
Here's how pinhead crickets look when released into a new container:
How Fast Do Crickets Grow?
It takes ~5 weeks for a pinhead cricket to grow and fully mature. If to calculate from an egg until a fully grown cricket it takes ~6 weeks. There are 3 main stages for crickets growing cycle. Within 2 years of growing crickets I've calculated the average of how long each stage takes. Here it is:
Egg (0-11 days)
Nymph (6 weeks)
Adult (6 weeks and onwards)
In my farm I make perfect climate for crickets to hatch and grow.
Crickets' eggs incubation climate:
90-95°F (32-35°C) temperature
~100% humidity
Climate for crickets after hatching:
80-90°F (27-32°C) temperature
~40% humidity
Different climate will result in different timeframe of each cricket life cycle stage.
I start counting day 0 for the EGGS when I remove the soil with laid eggs from the main container with mature crickets and place in the incubator with high humidity.
When I start seeing the first hatched crickets, I consider the stage is switched to nymph. Nymph stage ends when crickets begin to chirp.
Chirping = adulthood began and crickets are fully mature.
I have made another post about a cricket's lifecycle in more detail. Click here to read it.
Should I Feed My Beaded Dragon with Baby Crickets?
Yes, you can feed your gecko, bearded dragon or other pet lizard with baby crickets.
Though, keep in mind that recently hatched pinhead crickets are very small insects. You will not be able to transport them into you pet's terrarium without crushing them. Recently hatched baby crickets are the size of 1/16 in (~2 mm). They're just too small to move around easily.
If you release several of baby crickets at once into the terrarium, then you won't be able to catch them if you gecko or bearded dragon doesn't eat them all at once.
So, if you want to feed your bearded dragon or gecko with pinhead crickets, grow them for at least for 2 weeks after they have hatched. Then baby crickets will be ~1/4 in (0.6 mm) in size.
So, transporting them to your pet's terrarium will be manageable.