Crickets are nutritious insects which are beneficial for humans to eat. There are many different recipes how to prepare crickets for eating, but in this post, I will share my favorite crickets' snack – dried crickets!
I raise crickets commercially, so I have gone though the process of preparing crickets for eating more than a dozen times! Now I want to share the good practices with the readers.
One of the main rules when drying crickets for human consumption is to appropriately disinfect the crickets and dry them under a particular temperature to maintain as much nutrients as possible.
Frozen Crickets
I will share the details how to prepare crickets for eating from the stage when crickets are frozen.
If you're new to cricket raising and breeding, but would like to know how to properly grow and harvest crickets – check out my other post about how to breed crickets at home.
So, you have taken out crickets for the freezer, what's next?
Preparation for Crickets' Drying
The most important thing is not to waste time and disinfect the crickets by boiling them.
It's important to boil crickets as soon as you take them from the freezer, is because there's a chance that crickets may wake up. Of course, it depends how long crickets were kept in the freezer and under what temperature.
If crickets have been harvested recently and kept in a freezer for less than 6 hours under 14°F (-10°C) or less, then there's a big chance that crickets may start waking up after 15-20 mins in a warm environment (in this case – your kitchen).
There's an easy scientific explanation why this can happen. If you're interested, you can read my other post here about cricket's cold weather tolerance. Though, this post is not about that, so let's continue with the preparation of your snack!
After crickets are taken from the freezer, they should be boiled for 2-3 mins. It's very important, because when crickets are harvested, they are taken from their living habitat and are frozen – no cleaning is done in between. When growing, crickets are crawling on everything what they can find. That can be food leftovers (depends on what you're feeding your crickets), other crickets, droppings of crickets and other residuals at the bottom of crickets' living habitat (i.e. container, if crickets were raised in a cricket farm).
Hence, it's very important to disinfect the crickets.
After crickets are boiled for 2-3min, then use a strainer to separate crickets from the water.
At this point you will notice that many crickets' have been left without wings and legs. That is because crickets' limbs are very fragile. However, it is normal that only crickets' bodies are left after boiling and straining.
OK, crickets have been disinfected. What's next?
After crickets are have been separated from boiling water, they have to be prepared for the drying process.
You will notice, that crickets in the strainer are sticking one to another because they are wet. What you should do is carefully lay the crickets on a kitchen-towel. By doing so, a towel will absorb the surplus of water from the crickets' bodies.
Also, you should spread out the crickets on a towel, so you could speed up the towel-absorbing-water process. Leave crickets on a towel for couple of minutes.
Equipment
While towel is absorbing water from the crickets, let's decide what equipment you can use to dry the crickets. There are the options:
Use a standard oven in your kitchen
Use a fruit dryer
My recommendation for crickets' drying is to use a fruit dryer. It will be much more efficient. On the other hand, if you don't have a fruit dryer and only want to try out this cricket snack for the first time – standard kitchen oven will work great. Actually, in the beginning of the cricket farming journey, I dried crickets in a simple oven for me and family's consumption.
Oven
So, if you will use a standard oven, then simply set it up to 175°F (~80°C) and add the tray with crickets. You should dry them for ~12 hours. Also, you have to stir the crickets every ~30 mins to make sure crickets are drying evenly on the tray.
Yes, I know, it's a lot of hours for such a small bug to dry. However, crickets, same as humans, are mainly made out of water, so it's really important to fully desiccate the crickets before they are ready to be eaten for humans as a snack.
Also, ovens are not adapted for food drying, that's why it will take not less than 12 hours to prepare the crickets under 175°F (~80°C). You could try to increase the temperature to speed up the process, but I won't recommend it. What will happen is that on the outside crickets will roast, but inside they won't be crunchy. And we need whole crickets to be crunchy so they could become a tasty snack!
Actually, the lower temperature you setup to dry crickets – the better! Below I explain why that is important. Hence, if your oven can be setup to below than ~176°F (80°C) (mine has minimum temperature as 80°C), you can try to decrease it to ~140°F (60°C) or a bit below. However, as mentioned previously, ovens are not optimized for food drying. So, it would take you so much longer than 12 h to dry the crickets if you decrease temperature to below than 175°F (`80°C).
Food Dryer
Food driers are usually used to dry fruits and mushrooms. Also, they are perfect for crickets' drying.
There are various types of food driers. Some can adjust temperature and some are basic with only switch on/off button. If you have one with temperature setup option, that's great! You should set it up to 113°F (42°C) if you want to get best nutrition value. I explain below why temperature is important.
However, it will take quite a lot of time until crickets will be dry enough under 113°F (42°C), even in a proper food dryer. It should take about 10 hours. If you want faster results (but get less nutrients), you can set it setup temperature to 167°F (75°C) and dry crickets for ~8-9 hours until they become crunchy.
Important to note: while drying, crickets will loose 2/3 of their weight. That means that out of 2.2 pounds (1 kg) of frozen crickets, you will get 10 oz (~300 gr) of dried cricket snacks. Also, they will shrink in size while drying.
When I researched to buy food dryer for crickets' drying, I noticed that majority of food driers' models have quite big holes on every level. Which means that crickets will all fall to the bottom while drying, because they will shrink in size. So, depending on the food dryer model you have, you should be aware that if the holes are big in every drawer level, crickets will fall to be bottom of the dryer and may not dry sufficiently within ~8-9 hours under 167°F (75°C).
Here you can see an example of food dryer's drawer with too big holes. All crickets will go through those holes while drying (which we want to avoid).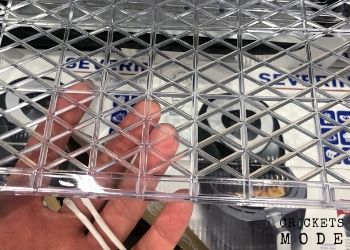 You want to have a food dryer which has a dense mesh on every level of the drawer. It looks like this: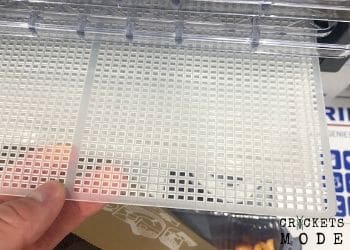 After a while I was able to find a drier which has dense small holes on every level of the drawer's floor. If you're interested of getting one, you can check it out on Amazon here.
Best Crickets' Drying Temperature: Research
As we all know, heat can easily kill majority of nutrients in the food. In case of drying crickets, if we chose a temperature to dry crickets which is too high, then proteins and other nutrients will disappear from the crickets. Hence, even we will eat them, we won't get best possible nutrients. So, we should select an appropriate heat when drying crickets.
But what temperature is the best to maintain the nutrients in dry crickets?
In 2019 a research was done where it was tested the impact of processing methods on the nutritional content of edible insects. A variety of tests we performed under different temperature levels. Crickets were dried under 90°F (32°C), 113°F (45°C), 162°F (72°C) and 248°F (120°C) temperature levels. It was found out that protein and calcium levels were significantly higher when crickets were dried under 113°F (45°C). Though, no other measured micro-nutrients were affected due to temperature.
So, if you have the possibility, you should always dry crickets under 113°F (45°C) to get optimal levels of protein and calcium.
Dried Cricket Flavors
After crickets are fully dried you can actually eat them as a snack already!
Usually, when people try dry crickets for the first time, they compare it to sunflower seeds or pistachios flavor. I notice quite often that people are hostile to try and taste crickets as they are not used to the look of this bug. However, majority, of those who try, get excited that the taste of a dried cricket is really good!
Dried crickets can also be served with spices. My personal favorites are cinnamon, Chipotle and barbecue spices.
You can prepare it yourself very easily. Here's what you will need to do:
Put 100 grams of dried crickets in a bowl and add 3 table spoons of oil.
Stir the crickets with a spoon until are crickets are glazed with olive oil. You can add more oil if you see that not all crickets are oily.
Add 50-80 grams of spices of your selection (my favorites: cinnamon, Chipotle and barbecue spices).
Stir until crickets are rolled with spices.
Enjoy your unique snack!
Here's how the final result should look like: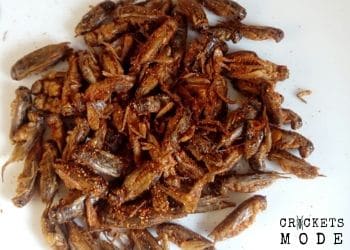 I prefer dried crickets with spices versus chips/crisps. It's much healthier and more tasty. A unique taste experience guaranteed!